Get ready to unfold your world
This is everything you'd want in a premium, durable, 5G smartphone. Then we made it unfold — revealing a massive screen so you can watch, work and play like never before.
DESIGN
And now for our opening act
FORM FACTOR
Stands up, stands out, unfolds
Thanks to Flex mode, Galaxy Z Fold3 5G opens up greatness with its unique ability to stand upright. This symmetrical and balanced design opens up so you can let loose in the next era of smartphones.
SIZE
Go from compact to impact
The thinnest, most pocketable Galaxy Fold yet, with big screens, inside and out. Folded, it's a premium 6.2-inch smartphone that rocks the classic one-handed hold.1 Unfolded, you've got an expansive view that opens new possibilities.
Bold, timeless colour. Galaxy Z Fold3 5G shines in three instant-classic hues that are sure to turn heads.
EXPERIENCE
All in your pocket
IMMERSIVE VIEW
Unfold a new way to watch
When the 7.6-inch Infinity Flex Display lights up, like magic, the Under Display Camera disappears — leaving behind nothing but what's onscreen.2 This 22.5:18 AMOLED Infinity Flex Display has no punch hole for the camera, so you can have a truly immersive experience.
The viewing experience doesn't stop at the Dynamic AMOLED 2X screen. Let the sound immerse you with Dolby Atmos and stereo speakers.
The viewing experience doesn't stop at the Dynamic AMOLED 2X screen. Let the sound immerse you with Dolby Atmos and stereo speakers.
MULTI VIEW
Make the most of that stunning view
One UI offers intuitive, PC-style interactions for that extra space. Your favourite apps are now optimised to make the most of the Main Screen on Galaxy Z Fold3 5G, showing more information at a glance.
*Screen layout can be adjusted in Settings. Screen layout adjustment availability may vary by app.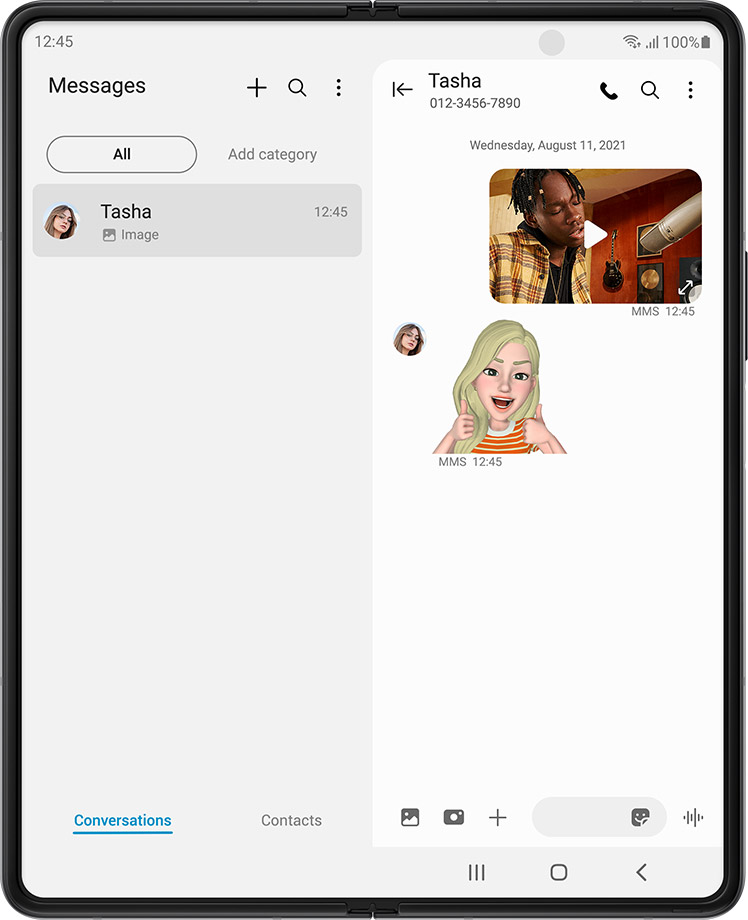 S PEN FOLD EDITION
For all your strokes of genius
The first S Pen on a foldable.4 Feels write. Get precision your fingers could only dream of as you put pen to glass. And you can watch, video call and more, hands-free with Flex Mode.2 It splits the screen in two, letting you work smarter — like taking a call on the top half and sketching ideas on the lower half.
Can't get the Flex mode panel to open on a third-party app? Activate Labs in Settings and watch the screen transform.5
MULTITASKING
Easy as 1, 2, 3 things at once
Split the large screen into three apps at once, then open five more via pop-up.6 Save groups of apps to the Edge panel to open later for instant multitasking, then watch, chat and so much more, all at once. Your phone delivers PC-like productivity but folds in your palm for portability.
It even works seamlessly with your Microsoft apps, allowing you to unfold a better workstation and conquer that to-do list in no time.
*Subscription to Microsoft Office required, sold separately.
Need to get productive with an app that doesn't support multitasking? Activate Labs in Settings and you can add it to your split screen setup.5
More screens. More game. More wins.
120HZ DISPLAY
Never skips a beat
120Hz delivers smooth gaming and smooth viewing on both the Cover Screen and Main Screen. It keeps motion clear and responsive even in the most action-packed moments to give you a big game advantage, fold-to-fold. And the 5nm processor keeps you in the game with more speed.
*Gaming in fullscreen on the Main Screen may require set up of Labs on your Samsung Galaxy device. Certain applications may not be supported by Labs.
PARTNERSHIPS
Take your apps to the big screen
Get access to all the apps you see here
The apps that come on your Galaxy Z Fold3 5G have got you covered, but there are even more third-party apps available to download to round out the experience.
There's a whole catalogue of optimised apps to explore and make the most of the screens on your Galaxy Z Fold3 5G.
DURABILITY
So much craftsmanship folded into one device
WATER RESISTANCE
Don't sweat it. It's water resistant.
The world's first water resistant foldable smartphone. An IPX8 rating means you can unfold freely, even if you're caught in the rain.7
EXTERIOR
It doesn't fold on toughness
Unfold with more confidence. Galaxy Z Fold3 5G is crafted with durable materials so you can worry less as you fold, tap, write and text.
Our strongest aluminium frame yet
Strength for peace-of-mind confidence. The backbone of this incredible phone is a super-strong, yet lightweight Armour Aluminium frame, 10% more durable to protect the interior parts of the hinge like a suit of armour. It protects the interior parts of the hinge like a suit of armour.8
Designed to shatter expectations
It's our toughest glass on Galaxy Z yet. Galaxy Z Fold3 5G's exterior cover screen and back cover can take a hit, since it's equipped with Corning® Gorilla® Glass Victus™.
Pure flex with every fold
The Main Screen is made of Samsung Ultra Thin Glass — the biggest leap in our foldable display technology.
No other Samsung Galaxy takes photo and video like this. Change how you capture and make video calls with five different cameras in three different spots and the hands-free freedom of Flex mode.
12MP Telephoto Camera
12MP Wide-angle Camera
12MP Ultra Wide Camera
4MP Under Display Camera
10MP Cover Camera
CAPTURE VIEW
Preview and review in one
Check the photo you just took without heading to the Gallery. Fold for Flex mode or turn on Capture View Mode in the Camera to shift the layout.
Unfold epic photos
Selfie

The Rear and Cover Cameras makes your selfies ready to post on main.

Portrait

Turn snapshots into portraiture. Get depth of field and lighting changes at a tap with the Rear Camera.

Night mode

AI keeps the colour and clarity in your nighttime shots, and Flex mode stabilises the Rear Camera without extra equipment.

Night Hyperlapse

The night lights are yours to capture with the Rear and Cover Cameras. Seconds of long-exposure shots become a timelapse video with eye-catching light trails.

Director's View

Record moments from multiple angles and multiple cameras — including Cover and Rear at the same time.9